Top 8 Reasons To Purchase Thuja Green Giant Trees
1. Fast Grower
The Thuja Green Giant is one of the fastest growing trees in America. It grows 1 to 3 feet per year. The Arborvitae tree can grow up to 60 feet tall with a 12 to 20-foot spread at maturity.
2. Privacy
The Thuja Green Giant is extremely popular in large part because a lot of people use it as a fence around their backyard. It's significantly more affordable, efficient, and effective to use these trees instead of an actual fence.
3. They're Beautiful
The Thuja Green Giant Arborvitae is a genuine evergreen tree. They don't turn different colors in different seasons. The beautiful pictures speak for themselves.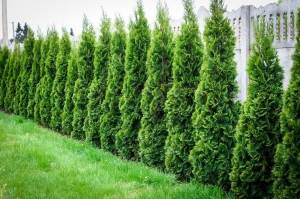 4. Extremely Tough – Resistant To Disease, Pest, Deer, Drought
The Thuja Green Giant Arborvitae trees are extremely tough and don't die easily. They are resistant to major pests and diseases. Even bagworms generally leave them alone. Deer don't bother these trees either. They can also withstand drought and most kinds of weather (as explained below). Few people have serious problems with them and you can expect them to remain healthy for decades.
5. They Can Grow In Most Of America
They can grow in USDA zones 5 to 9, which is the overwhelming majority of the continental United States. Locally, it covers almost the entire state of Virginia, West Virginia, and Maryland. It can generally withstand snow, ice, heavy rain, wind, intense heat, and humidity. Click here for a map of where you can grow it.
6. Tolerant Of Many Different Soils
They will generally grow well in sand, clay, loam, silt, and even wet soil.
7. Easy To Trim & Shape
These are low maintenance trees. You can trim and shape them once a year. Additionally, there are no sharp needles to deal with.
8. Shade Tolerant
They can grow well in areas that are shady 50 percent of the day, or with dappled shade. The growth will only slow in heavy shade. Shade from other trees will not have much of an impact because the light is not filtered by passing through of leaves of other trees.